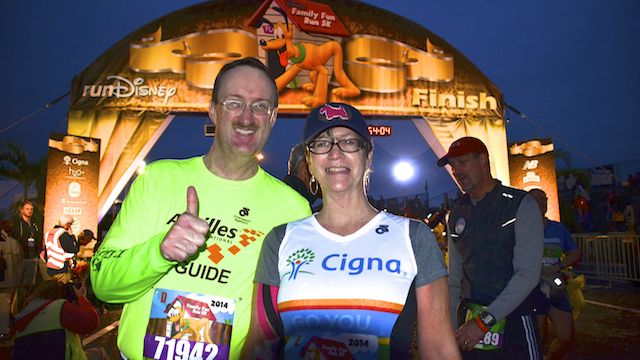 It started with a right arm pain that wouldn't go away. But it led to several surgeries to repair scar tissue and rotator cuff tears. Karen Ronk of Palm Beach, Fla. wakes up every morning with nerve pain. Although she often feels fatigued, she won't give up on walking.
"I would rather walk than take a pill," she recalled. "I told my doctor, 'what can I do to get back work?' I have to keep moving. It's nice having a routine again and adding a sense of normalcy to my life."
Karen walks four or five miles a day. It's a stress reliever as well as the physical benefits. She gardens too to stay active. But she experiences trouble and feelings of depression.
Over the past year of her recovery, she started working with Betty Sims, a Cigna vocational rehabilitation counselor, who recommended she participate in the Achilles Cigna Customer Referral Program. The program provides Cigna long term disability customers access to training resources and the ability to participate in mainstream athletic events as a member of Achilles International.
She joined a local chapter of Achilles and started training with other people with disabilities.
"Being part of the Achilles chapter and heading to Disney for the 5K, I finally had something to look forward to doing," Karen said.
Cigna is sponsoring 28 Achilles athletes at the 2014 Walt Disney World Marathon Weekend presented by Cigna. Achilles is a non-profit organization that focuses on helping people with disabilities "return to life." Team Cigna runners, including Cigna's chief executive officer David Cordani, will pair with Achilles athletes to serve as guides during the 5K and Disney Half Marathon. This year's Achilles athletes include 20 adults, five children and three Achilles Cigna Customer Referral Program athletes, which includes Karen.
To learn more about Cigna's work in Disney and see some of the other inspirational stories from our relationship with Achilles International, visit http://www.cigna.com/runDisney.
All user-generated information on this site is the opinion of its author only and is not a substitute for medical advice or treatment for any medical conditions. Members and guests are responsible for their own posts and the potential consequences of those posts detailed in our Terms of Service.
Tags: