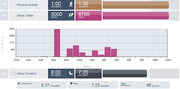 I have a quick break between all the madness of the conference I'm at so I thought I would do my last BodyMedia update! It's the end of the six week challenge and I have SUCH a better understanding of my body what it is doing throughout the day and night, and that is so very helpful when you are trying to stay in shape. Here are a few of my stats from today, and it's only 3:30pm!

I'm at a little over an hour and a half for physical activity-- this is including 25 minutes of steady state cardio. The other hour and 10 minutes have just been from running around, and getting to and from the conference space... these hotels in Vegas do not make it easy on you! I have to walk down this hallway that is easily half a mile long, no really, and the whole way you just stare out the window at the MGM pool wishing so badly you could transport yourself out there. Okay, I digress.

You'll also notice my steps taken are nearly 3 times what they are when I sit at my desk all day and my day is only half over, which is crazy. Also, I got great sleep last night! 7 hours and 25 minutes which is about an hour more than I typically get, phew!
Thank you so much to EmpowHer and BodyMedia for giving me the chance to test out this device! It is amazing and I cannot wait to keep using it when I start to lean out, it's going to be so helpful!!
BodyMedia FIT automatically tracks the calories burned during your daily activities — from pumping iron to using aniron — and monitors the quality of your sleep, an important factor in weight loss. Add in the easy-to-use food log and you have the information you need to improve your weight loss. Our 3 part system includes:
1. An Armband that automatically captures data
2. An optional Display device or free downloadable mobile apps that give you up-to-the-minute readings throughout the day
3. An online Activity Manager* that analyzes raw data, allows you to log food and presents info in an easy-tounderstand way(*subscription required)
"Disclosure: Device and accompanying online Activity Manager subscription was provided by BodyMedia viaEmpowHER. The opinions expressed herein are those of the author and are not indicative of the opinions orpositions of BodyMedia or EmpowHER."
Tags: