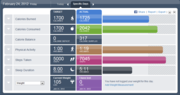 As I mentioned last week, I'm really excited to have my BodyMedia this week while I'm working my butt off in Vegas. Yesterday I went to the gym before heading to the airport, so it was pretty much a "normal" day. Below is a reading from a fairly normal day, and this shows a calorie surplus of 317 which is right where I want to be for building muscle. James Wilson recommended 250-500 calories and I'm just a little scared to go all the way to that 500 mark, so I figure the middle is safe!

I can't wait to see what my stats look like when I get back to my hotel room tonight, I have a feeling my calorie burn will be higher since I'm going to be on my feet all day instead of sitting at my desk. I quickly checked my stats before bed last night and even with just traveling and walking around the hotel my calorie burn was about 350 calories higher than usual. I figured this would be good because eating out many times a day is rough on a clean eater. At dinner last night I ordered chicken and veggies and asked for no oil salt or butter. Of course, the veggies were completely drenched in butter. Ahh!! In any other circumstance, I would have sent it back, but when you are at dinner with 10-15 people (including your manager and CEO) and it's one of those "no one eats until everyone has their food" situations, you just have to suck it up and deal with what you have.

Has anyone looked into getting one of these yet? Let me know if you have any questions at all! It's also worth noting my boyfriend wanted me to leave my bodymedia behind while I went on my business trip so that he could use it! He's been trying to steal it from me since I first got it, so I definitely know what I'm getting him for our anniversary!

BodyMedia FIT automatically tracks the calories burned during your daily activities — from pumping iron to using an iron — and monitors the quality of your sleep, an important factor in weight loss. Add in the easy-to-use food log and you have the information you need to improve your weight loss. Our 3 part system includes:

1. An Armband that automatically captures data
2. An optional Display device or free downloadable mobile apps that give you up-to-the-minute readings throughout the day
3. An online Activity Manager* that analyzes raw data, allows you to log food and presents info in an easy-tounderstand way(*subscription required)

"Disclosure: Device and accompanying online Activity Manager subscription was provided by BodyMedia viaEmpowHER. The opinions expressed herein are those of the author and are not indicative of the opinions orpositions of BodyMedia or EmpowHER."
Tags: