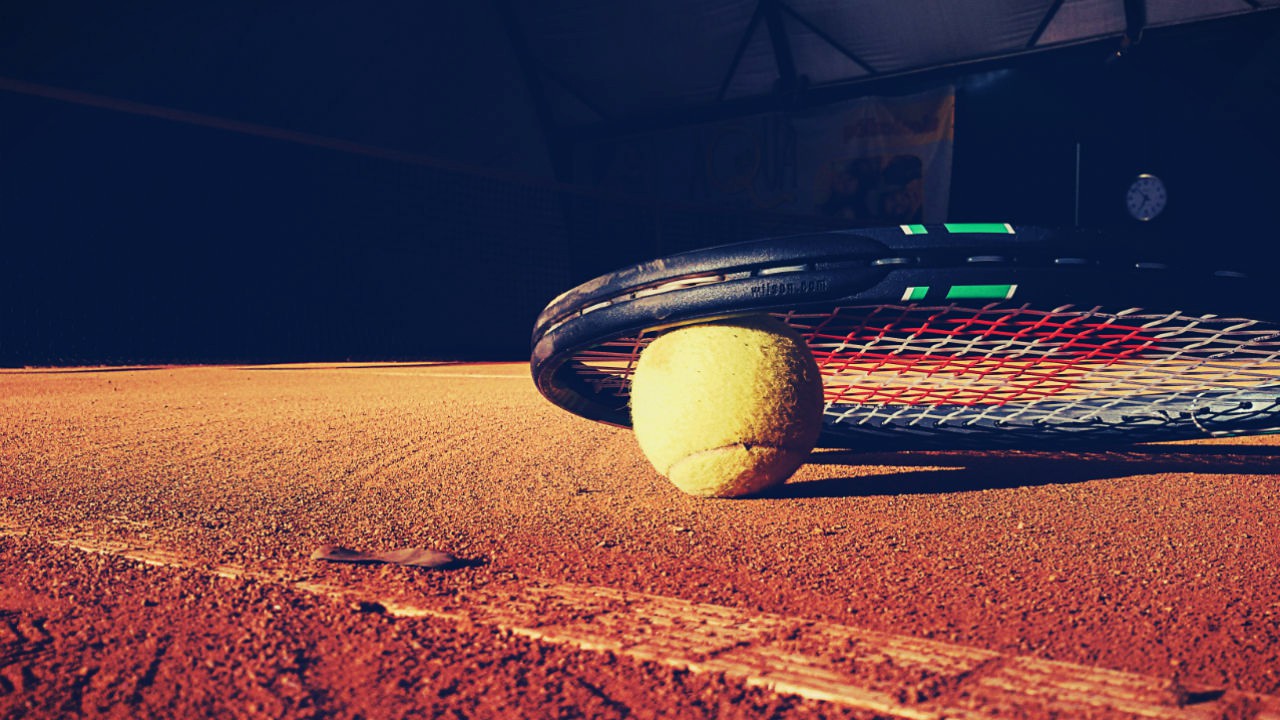 Via Pexels
I'm a forty-something, never-thin woman who started playing tennis about four years ago. After a few years of playing two to five times a week, I started paying the piper for my enthusiasm — knee pain.
A couple of ibuprofen when I got home from the courts turned into pre-game ibuprofen, an ice pack ready in the freezer, and knee braces. On bad days I had to beg an ice pack from the girl behind the counter at the YMCA.
A search for "knee pain" on the United States Tennis Association site reads, "The pain you are describing could be from a number of things including tendinitis or arthritis. Playing exclusively on hard courts forces your knees to take quite a beating."(1)
Tennis on hard courts + being awesome at tennis (not really) + age + overweight is a recipe for knee problems.
Surrendering to the Medical Profession
When your knee swells up up to the size of a cantaloupe, even if you're not a fan of doctors, you'll probably go to one.
This is what it took for me to finally make an appointment with a primary care physician a year ago. She requested an MRI which my insurance refused. Fine.
"I could refer you to a specialist." Meh. Another doctor. No thanks. I can still play tennis.
Fast forward a year. Depressing the accelerator during the 25-minute drive home from the Y sent my right knee throbbing unbearably.
Even when I hadn't just played tennis, driving more than five or 10 minutes became unmanageable and unsafe as I leaned on the steering wheel moaning at 65 mph while rubbing my knee.
At home, despite over-the-counter pain relievers and ice, I found I couldn't rise from a sitting position. My knee throbbed in the night, disrupting my sleep. I slowed down considerably, needing more help around the house.
"Can we get Chinese tonight?" I'd ask from the sofa.
"Can you bring me a glass of water?" I'd ask from bed.
My husband insisted I see an orthopedist, maybe out of concern for me, maybe out of a desire for home-cooked meals.
Here's how that went:
"Oh, my, what perfume are you wearing?" That's the first thing the orthopedist ever said to me.
"Um ... Eternity ..."
Alone in the room, the second thing he said was, "Those are nice shoes. What brand are they?"
"Um ... Born?"
I'm not sure if he was a chubby-chaser with a shoe fetish, or maybe he was trying to determine my socioeconomic status. Likely the latter, which I will clarify momentarily.
I explained my condition, essentially "tennis and knees." The doctor sent me for an X-ray across the hall, the results of which showed osteoarthritis — nearly bone on bone in the right knee.
Joints are machines with moving parts, and machines need lubrication. Synovial fluid is the body's natural joint lubricant. It also acts as a shock absorber. Osteoarthritis results in a loss of fluid and subsequent pain.(2)
The orthopedist didn't recommend an MRI, but gave me corticosteroid shots instead. Overuse of corticosteroids can eventually start breaking down cartilage, but this was only a single shot.(5)
Other side effects can include nerve damage and thinning of nearby bone.(5)
The orthopedist's plan was to continue with a shot of hyaluronic acid — known by the brand names Gel-One, GenVisc 850, Hyalgan, Monovisc and Orthovisc, among others(6) — a few weeks later.
Later that night, I walked through the kitchen so fast my husband asked, "Where's the fire?"
I was a blue streak, moving stronger, swifter, faster than I had in a couple of tennis years. Believer! Born again! Fountain of youth!
When we went to dinner at a restaurant with a long wait, I beat all the gray-haired couples in the parking lot to the hostess stand. BOOM!
And then I got the call. From the insurance company's pharmacy. (Did you know they had one?)
If they were going to send the hyaluronic acid I would need to pay $1800 over the phone, now. I thought it was a scam.
By this time, the effects of the steroids were wearing off and I was slowing down. I couldn't afford $1800, so in desperation and thrift, I started physical therapy, a $20 copay twice a week.
The Antidote to Pain is Movement
If your kids watched "Blue's Clues" then you know Steve. Picture Steve laying his hands on your sore spots and teaching you anatomy in reassuring tones twice a week. And insurance paying for it.
But his name is Andrew Gaetano, co-owner of Capital Area Physical Therapy & Wellness, with a doctorate in physical therapy. He is also a professor of Gross Anatomy in the physical therapy program at Sage Graduate School in Troy, New York.
According to the American Academy of Physical Therapy, physical therapists use techniques to:(8)
- Promote the ability to move
- Reduce pain
- Restore function
- Prevent disability
After spending a few minutes with my knee under heat, Andrew stretches my knee in controlled movements — movements I never dreamed I could do and live.
When I squirm in discomfort, Andrew asks what I'm feeling.
"Like my knee is going to pop like a splintered chicken bone."
Andrew reassures me it won't.
He once told me, "Movement is the antidote to pain," a phrase I repeat to myself during therapy and during my PT exercises at home. I asked him to explain that.
"Graded exposure into the correct movement or more specific normalizing movement patterns and creating heathy movement can be the antidote to pain," said Andrew. "Graded exposure meaning enough stimulation to reduce threat but not enough to set off the alarms all over again."
Alarms = pain and fear.
I do six easy minutes on a recumbent bike. Then Andrew instructs me in exercises — some with bands, sometimes with a step.
"Not all movement is the antidote," Andrew clarified. "Some people in pain may exercise on their own, thinking exercise may help them, which is an excellent thought process. But performing the wrong exercisecan make their symptoms worse, ultimately creating more fear about movement."
Pain and Fear
Having been in so much pain for a long time made me scared and protective of my knee. I had to grow to trust that Andrew wouldn't hurt me.
In our interview, I told Andrew, "Your partner called me a fraidy cat, with a low pain threshold."
Andrew laughed. "I think I mentioned that you have fear avoidance behaviors and he jokingly said that."
I asked Andrew where the fear comes from.
"The way I think about it, fear of movement can be created by beliefs, attitudes, previous history or experiences, or habits. Other factors like cultural traditions, socioeconomic status and family background can also play a role," Andrew explained.
There have been studies on the relationship between socioeconomic status and chronic pain. A review of studies on this relationship showed unemployment, lower income levels, and less education are associated with higher levels of chronic, disabling pain but the nature of the connection is unclear.(4)
Men of low socioeconomic status have shown more chronic pain than women in these studies.(4)
Research also consistently shows a relationship between trauma and chronic pain. People with chronic pain report higher rates of having experienced trauma in the past, compared to those who do not have chronic pain.(7)
Ninety percent of women with fibromyalgia and 60 percent of all people with arthritis report trauma in either their childhood or adulthood.(7)
It also turns out that the MRI that has continually eluded me may not have made a huge difference.
"MRIs are really good at showing the tissues, what do they look like, abnormalities in the tissue, disease, tumors, or fractures, etc.," Andrew said. "However, there's been a lot of research lately — especially related to back pain — that shows those findings on an MRI like soft tissue anomalies, degeneration/arthritis, bulging discs, etc., can have nothing to do with pain."
In fact, he said, the majority of people without pain have these anomalies.
"In other words," Andrew continued, "while the MRIs are good at showing the tissues, they may not be good at showing the source of pain, which is probably more related to how the tissues/system moves."
Pain Meds and Healing
If someone had offered me prescription pain killers along this journey, I would have taken them. I would have taken them often. A lot of them. I would still be taking them.
I asked Andrew about the role of pain medication in healing. He's not a physician, and doesn't prescribe or give advice on medication, but he had some thoughts to share.
"Our bodies heal, it's what we do," he said. "Certainly medication has its place in treating pain. If a patient is taking pain medication a year after an injury thinking its going to help them 'heal,' this may be an dysfunctional thought process. If they are using it because they can't cope with pain any other way, that's a different story."
A person on pain meds with physical problems that can't be explained or treated through a disease process and who hasn't yet had physical therapy, should see if physical therapy can help.
Read about when to choose physical therapy over opioids here.
Lessons From Chronic Pain
This past year, chronic pain has been a great teacher.
Lloyd "Skip" Shearer, author of Walter Scott's Personality Parade, wrote, "Resolve to be tender with the young, compassionate with the aged, sympathetic with the striving, and tolerant of the weak and the wrong. Sometime in life you will have been all of these."
I have grown in compassion for the opioid-addicted, for the old, for people who walk too slowly, for people with a limp or with a cane. People move slowly because they have to. Pain demands it.
Physical therapy has shown me the complexity and healing ability of the body, and that I can learn to move correctly in order to move well. I'm almost grateful for the pain that led me there. Almost.
Reviewed September 1, 2016
by Michele Blacksberg RN
Edited by Jody Smith
Tags: