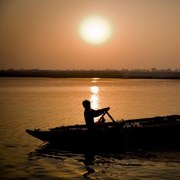 Photo: Getty Images
On February 5, 2012, the world lost a truly courageous soul, that of Michele Baldwin. At age 45, she had suffered from cervical cancer, the result of HPV (human papillomavirus).
Baldwin inspired women everywhere when, after receiving her final diagnosis last June, she raised money for a paddle-boarding trip 700 miles down the Ganges River to bring awareness to HPV and the vaccine capable of preventing it.
In so doing, she accomplished the world's record, all while still suffering from the final stages of cervical cancer.
According to Baldwin, during the course of her paddle boarding trip, the pain she experienced disappeared. She chronicled her trip at Starryganga.com. She was determined to have something positive come from her negative experience with HPV and cancer.
At 19, she moved to India where she worked directly with Mother Teresa. That began a lifelong love of India and its culture and she spent many years of her life going back to India from her home in Albequerque, New Mexico. During one of her visits, she spent time delivering babies at the Afghan Women's Gynecologic Hospital in Peshawar.
Baldwin underwent surgery, radiation and chemotherapy, in addition to two last radical treatments with chemotherapy. Her cancer had spread to the point where no more treatment was possible.
It was during this time that she took her daughter Audrey out of school and lived for five weeks in Morocco, Italy, and Spain.
According to Frederic Lumiere of LumiereMedia in Los Angeles, Baldwin's story will be highlighted in his new documentary "Anyone's Daughter - The HPV Epidemic". The documentary will use footage of her expedition in addition to interviews which were done with Baldwin and her family during the last few weeks of her life.
"Until everyone is screaming to have HPV addressed in a more effective manner, then those of us with HPV will only have to scream louder." (a quote from Tamika Feldner, Founder of Tamika and Friends, a non-profit cervical cancer organization and a cervical cancer survivor herself)
Hopefully this documentary will bring light to what the government and medical community have ignored and failed to educate the public about -- that HPV affects more than the cervix.
It can cause cancer of the vagina, vulva, anus, penis and head/neck areas, as well. It is time that the public understands that HPV is a far more dangerous and far-reaching virus than we have been led to believe.
Sources:
"Albuquerque Journal Obituaries." Albuquerque Journal Obituaries. N.p., n.d. Web. 20 Feb. 2012.
http://obits.abqjournal.com/obits/show223167
"Anyone's Daughter: THE HPV EPIDEMIC - Trailer | Papilloma.in." Papilloma - don`t worra, baby, it`s not fatal! | Papilloma.in. N.p., n.d. Web. 20 Feb. 2012.
http://www.youtube.com/watch?v=Y55WIzZWwJM&feature=player_embedded
http://papilloma.in/anyone39s-daughter-the-hpv-epidemic-trailer
Reviewed February 20, 2012
by Michele Blacksberg RN
Edited by Jody Smith
Tags: