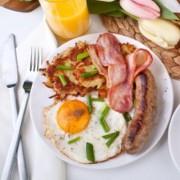 Photo: Getty Images
In our office we diagnose a lot of celiac and gluten sensitivities which requires a gluten-free diet. As many of you know, going gluten free can be a really difficult task to manage until you've been doing it awhile. It requires a lot of education and a lot of label reading. You find yourself looking up ingredients online and downloading the gluten-free iphone application to help you when shopping.
Patients look to me for empathy and sympathy because I, myself, am gluten free due to celiac. I haven't had dairy since I was 18 and I haven't had soy since I was 22…gluten took a little (okay a lot!) longer to discover but thanks to my chiropractor the puzzle was complete. As you can expect, the first response by most patients is, "What am I going to eat?" followed by, "I am going to starve!" and then it's usually, "I am one of THOSE people now."
I am here to tell you there is a lot to eat, you are absolutely not going to starve and being one of 'those' people means you are healthier in the end.
Thankfully so many companies are really paying attention to gluten free and making labeling easier to understand. Let me walk you through my typical day so you can see that I definitely don't starve!
Breakfast: most mornings I have a vegetable scramble with mushrooms, sundried tomatoes and asparagus or spinach. On quick mornings I make a smoothie with rice protein powder, no sugar vanilla rice milk, ice and cinnamon. Lazy mornings I eat gluten free hot cereal by Bob's Red Mill or I make turkey sausage and gluten free waffles or gluten free toast. I generally rotate around breads to try different ones but Udi's whole grain and Tarte Bakery Pumpernickel are my absolute favorites!
Lunch: most days I make a salad with greens, cut up chicken or turkey and vegetables. I love thai food and eat leftover curries or Vietnamese pho soup.
Snacks: I absolutely love Kind Bars and often go for the macadamia nut/apricot or almond/apricot without added protein. I also do pressed seed crackers found at our health food stores or another smoothie. If I eat fruit I often choose low sugar options such as berries in the summer, and apples/pears the rest of the year.
Dinner: Wow – this varies greatly! Everything from homemade chicken/vegetable/rice soup, quinoa noodles stir—fried with vegetables and meat in the soy alternative Coconut Aminos, Thai food, Vietnamese food, sushi (I use the Coconut Aminos instead of soy sauce but you could do wheat-free tamari if you can eat soy), steak, chicken, or Mexican (corn tortillas). My favorite dinner roll (great as a sandwich roll too) are Laurel's Sweet Treats. Her cookie and pancake/waffle mixes are divine too!
As you can see, I find plenty to eat and you will too! Give yourself one minute to be overwhelmed and then take a deep breath because you are not alone and there are so many resources out there to help!
Resources:
www.tartedesserts.com
www.udisglutenfree.com
www.kindsnacks.com
www.bobsredmill.com
www.glutenfreemixes.com
www.coconutsecret.com