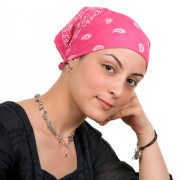 Photo: Getty Images
Dr. Jimmie Holland, author and renowned psychiatrist, and her husband Dr. Billie Holland, a cancer specialist often had conversations regarding his work during the early 1970s to which she would reply, "Yes, but how does the patient feel."
What became obvious was that his answers were always the same, "I don't know."
Her work over the past 17 years has revolved around how patients are treated with respect to their cancer diagnoses. As a result of her research she has developed a new field in medicine -- psycho-oncology.
She was the first chair of Memorial Sloan Kettering Psychiatry and Behavior Sciences. She is also an author, publishing "The Human Side of Cancer" in 2000.
Thirty years ago, patients were considered walking miracles if they were to survive through the initial phases of cancer and as a result, other questions which patients had were seen as irrelevant -- they should be glad just to be alive.
If a woman was concerned and expressed distress to her doctor that she could no longer have sex, her concerns were usually dismissed. Doctors did not talk to patients about their "feelings" but were more concerned about the tangible medical issues which they could document.
In a way, and as unfortunate as it is, not much has changed today and patient's emotional issues are rarely focused on especially just after diagnosis and while the patient is going through treatment.
The patient gets through treatment by utilizing the fight or flight instinct in order to survive. However, once treatment is over, the patient then begins to reflect upon all that they have gone through.
According to Holland, more often than not patients tend to focus on their shortcomings and how they failed to manage certain things during their treatment. She works to help them focus on all that they have accomplished and how courageous and strong they have been.
Holland continues to assist those with cancer. She co-leads a group for those older adults coping with illness and cancer. This program has also been expanded to assist the housebound elderly over the telephone.
Doctors, but particularly oncologists, need to remember that patients must be treated as a whole, not just as the physical vessel which they occupy. Only by incorporating all aspects of a person into their treatment can the cancer patient ever truly be given every opportunity available when it comes to their survival.
Sources:
ROSENTHAL, ELISABETH. "SCIENTIST AT WORK: Jimmie Holland; Listening to the Emotional Needs of Cancer Patients - New York Times." The New York Times - Breaking News, World News & Multimedia. N.p., n.d. Web. 11 Jan. 2012. http://www.nytimes.com/1993/07/20/science/scientist-work-jimmie-holland-listening-emotional-needs-cancer-patients.html?pagewanted=all&src=pm
"Jimmie C. Holland - Physician Profile | Memorial Sloan-Kettering Cancer Center." Memorial Sloan-Kettering Cancer Center. N.p., n.d. Web. 11 Jan. 2012. http://www.mskcc.org/cancer-care/doctor/jimmie-holland
"The Human Side of Cancer: Living with Hope, Coping with Uncertainty - By Jimmie C. Holland, MD, and Sheldon Lewis." The Human Side of Cancer: Living with Hope, Coping with Uncertainty - By Jimmie C. Holland, MD, and Sheldon Lewis. N.p., n.d. Web. 11 Jan. 2012.
http://www.humansideofcancer.com
Reviewed January 11, 2012
by Michele Blacksberg RN
Edited by Jody Smith
Tags: