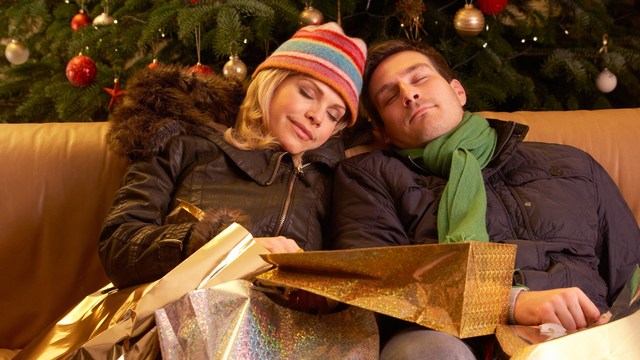 MonkeyBusiness Images/PhotoSpin
The winter holidays are filled with shimmering celebrations, generations of tradition, unforgettable foods, reuniting with friends and family, and for some, a range of emotions that could have you questioning if you should ask your doctor to prescribe anti-anxiety medications.
Welcome to one of the most stressful times of the year.
At one time or another we've all felt the added stress the holidays bring: an unusually full social calendar, the decorating, cooking, shopping, wrapping, cleaning, the organizing, and worry about creating that perfect experience family and friends will talk about for years to come.
When you or a loved one has cancer, the holiday season can heighten an already challenging and emotional situation. But it doesn't have to, says Sarah Reed, MPH, MSW, LICSW at Boston's Dana-Farber Cancer Institute, and a member of the LIVESTRONG Survivorship Center of Excellence Network.
Reed says there's no right way to celebrate the holidays, so don't be afraid to reframe your expectations, acknowledge your situation is different this year, and find what works for you.
Here are five tips to help you keep unnecessary holiday stress under wraps.
1. Keep it simple.
You may be known for the best holiday decorations on the block or for distributing goodie bags to all the neighbors, but if that seems overwhelming this year, acknowledge that you just don't feel up to it and give yourself permission to be okay with that.
Instead of doing it all, "pick one or two special traditions and ask family and friends for help. Some families even create new traditions when a loved one is going through treatment. Instead of a big holiday party, try planning a small potluck dinner and have everyone pitch in," says Reed.
2. Listen to your body.
Fatigue is the most common side effect of cancer treatment, so it's important to balance activity with rest. Liz Davis, MD, a psychiatric oncologist at Massachusetts General Hospital Cancer Center's Survivorship Program says that getting regular exercise and sleep, eating sensibly and sticking to a routine will all help cancer patients reduce stress, which is especially important during the holidays.
"Avoid overindulging on seasonal food and beverages, and keep late nights and long days to a minimum if you're feeling fatigued," Davis says.
3. Spree online.
If you're someone who relishes holiday shopping, try skipping the long lines this year and shop online. Most retailers give extra financial incentives to online shoppers and some even offer giftwrapping.
Plus, most online retailers allow you to send your purchase directly to the intended recipient, possibly saving you money and definitely saving you from standing long shipping lines.
If finances are tight, consider simple homemade gifts, cards or even a phone call, which is often more personal and cherished.
Think outside the gift box: There are numerous online options for sending holiday e-cards, grocery and gourmet food delivery services, gift cards and live experiences. Shopping online also has the added benefit of lessening your risk of exposure to unwanted viruses while undergoing treatment.
4. Embrace your feelings.
It's extremely common to feel overwhelmed or depressed during holidays without the added burden of cancer, says Davis. Getting a cancer diagnosis, undergoing treatment and living with the disease is an emotional roller coaster for survivors and their families.
"Cancer can put enormous strain on personal relationships, which can be most apparent during the holidays," Davis says.
There's no obligation to be festive if you don't really feel that way and showing your true emotion is okay, says Reed. "Joy can be side-by-side with other emotions like sadness or frustration" and it can help to let these emotions come to the surface.
Tears can bring a sense of relief and talking honestly through your feelings with a loved one gives them permission to express their feelings as well.
5. Get some "me" time.
Don't be afraid to take a breather from holiday stress and do something enjoyable for yourself. The pause can work wonders to renew your sense of hope and satisfaction with life.
Reed suggests, "watching a favorite movie, talking to friends, playing music, or getting some fresh air" can help you refocus on things to be truly thankful for and the meaning of the season.
Lynette Summerill is an award-winning writer and Scuba enthusiast who lives in San Diego with her husband and two beach loving dogs. In addition to writing about cancer-related issues for EmpowHER, her work has been seen in publications internationally.
Sources:
Cancer and the holidays: Five tips for a less stressful season. Press Release. Dana Farber Cancer Institute. Dec. 18, 2012.
http://www.dana-farber.org/Newsroom/News-Releases/cancer-and-the-holidays-five-tips-for-a-less-stressful-season.aspx#.UnlDlk5zLLA.email
Holiday Stress with Cancer—Coping Tips: Thoughts on managing the Holidays when you have cancer. Lynne Eldridge MD. About.com. 22 Sep. 2012.
http://lungcancer.about.com/od/livingwithlungcancer/a/holidaystresscancer.htm
Coping with Cancer at the Holidays. Dr. Liz Davis. 13 Dec. 2010. http://www.massgeneral.org/cancer/about/newsarticle.aspx?id=2479
Reviewed November 18, 2013
by Michele Blacksberg RN
Edited by Jody Smith