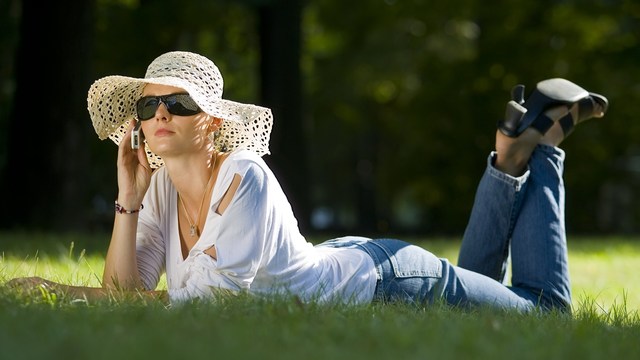 MonkeyBusiness Images/PhotoSpin
Spring is here and it's arrived none too soon. By now, your cabin fever is getting the better of you, and you're dreaming of kicking off your shoes and basking in the warm sunshine.
There's just one concern. How do you take advantage of a day in the rays without harming your skin or endangering your or your family's health?
Despite public health warnings about overexposure to UV radiation, only 17 percent of adults, including those with kids, say they always apply sunscreen lotion when they're going out in the sun for a half-hour or more.
Another 12 percent say they usually do, according to a recent ABCNews.com survey.
The fact that the average person isn't regularly using sunscreen isn't what surprises Dr. Anees B. Chagpar, M.D.,M.P.H., associate professor of surgery at Yale School of Medicine, in New Haven, Connecticut.
Rather it's that more than a quarter of melanoma skin cancer survivors were also skipping any sun protection — and a few (2 percent) still use tanning beds.
Melanoma is the deadliest form of skin cancer, a disease that strikes nearly 77,000 Americans each year and takes nearly 9,500 lives, according to the American Cancer Society .
On top of that, the National Cancer Institute estimates that more than two million new nonmelanoma skin cancers will be diagnosed this year.
"We know that for many people with melanoma, sun exposure is a major risk factor for recurrence and sun protection may reduce their chances of getting melanoma again," Chagpar said in a written statement.
"Although we found that melanoma survivors did better than the general public at protecting their skin from the sun, we also found 27percent of melanoma survivors never wear sunscreen. That blew my mind."
Chagpar reviewed a 2010 national study in which health questionnaires were given to more than 27,000 U.S. adults and reported the findings April 8, 2013 at the American Association for Cancer Research's Annual Meeting in Washington, D.C.
If applying a daily sunscreen isn't your gig, consider protecting yourself with UV-protective clothing that offers a good-to-excellent defense.
In fact, many skin-care experts believe clothing shields skin more effectively from UV light than sunscreen.
Why?
Many of us often apply sunscreen lotions too thinly, giving our skin less protection than the sunscreen's available SPF rating, and then we neglect to reapply it.
Since the late 1990s, clothing manufacturers have been developing clothing and accessories to minimize the amount of broad range UV radiation that passes through. To indicate just how much UV transmission a garment gets, the industry voluntarily adopted the UPF rating system.
Basically, the higher the number, the better the protection the fabric offers. Any fabric that allows less than 2 percent UV transmission is simply labeled UPF 50+, the highest rating. Any garment with a UPF 15 (a good rating) has too little protection to be labeled.
Rhonda Sparks, president of UV Skinz, started a UPF clothing line back in 2002 after she lost her husband, Darren Farwell, 32, an avid surfer and snowboarder, to malignant melanoma skin cancer.
"The tighter the weave, the more natural UPF protection an item will have," Sparks explained. "Then we do a treatment on the thread itself, where the fabric is basically bound together even more."
Thinking these clothes sound hot and uncomfortable? Think again.
Modern fabrics — moisture-wicking, quick-drying, highly breathable, engineered for optimal ventilation — make it surprisingly efficient and comfortable to shield skin from UV light while you revel in your outdoor pursuits. Some UPF-rated garments use vents to boost air circulation so the wearer stays cool and comfortable.
It's simply not enough to say a clothing item has a UPF rating. In the United States, the Federal Trade Commission monitors UPF advertising claims. If a manufacturer's claims are questioned, the FTC can investigate the testing methods that were used to ensure that they support the claim, according to the website for REI.
Most national outdoor apparel lines, including REI carry UPF clothing for every member of the family, or check out these clothing lines online:
• Coolibar:
Their selection offers 50+ sun protection for men, women and children, including swimwear and hats.
http://www.coolibar.com
• UVSkinz:
Their line provides UPF 50+ sun protection active wear for infants to adults.
http://www.uvskinz.com
• Sun Precautions
Their Solumbra clothing line for women, men and children has an all-day protection that's built in, not applied as a treatment or coating that can wear off or wash out.
http://www.sunprecautions.com
Lynette Summerill is an award-winning writer and Scuba enthusiast who lives in San Diego with her husband and two beach loving dogs. In addition to writing about cancer-related issues for EmpowHER, her work has been seen in publications around the world.
Sources:
Some Melanoma Survivors Still Use Tanning Beds, skip sunscreen. AACR press release. Jeremy Moore. 8 April 2013.
http://mb.cision.com/Public/3069/9393277/9f777657f2abf0de.pdf
REI. Sun Protection Clothing Basics. Online:
http://www.rei.com/learn/expert-advice/sun-protection.html
Skin Cancer Information. National Cancer Institute.
http://www.cancer.gov/cancertopics/types/skin
Sun and UV Exposure. American Cancer Society.
http://www.cancer.org/cancer/cancercauses/sunanduvexposure/skin-cancer-facts
Rhonda Sparks. UVSkinz, Inc. Interview 10 April 2013.
ABCNews. Poll: Few People Apply Suncreeen. Jesse F. Darris 8 Aug. Online:
http://abcnews.go.com/Health/story?id=116703&page=1#.UWWnrxmkATE
Reviewed April 16, 2013
by Michele Blacksberg RN
Edited by Jody Smith