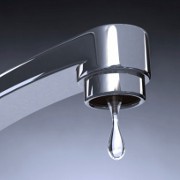 Photo: Getty Images
The mayor of a small Peruvian town is concerned mineral levels in the village water supply could lead to an increase in homosexuality among residents.
José Benítez, the mayor of Huarmey, a coastal town in the Ancash Region of Peru, made the bizarre comment recently at the launch of a local project designed to increase access to water.
Huarmey is famous for its abundant shrimp and long beaches, but the mayor has become concerned it may gain a different sort of reputation due to high levels of strontium in the tap water, LGBT Asylum News reports.
The mineral, he claimed, reduces male hormones thus causing an increase in homosexuality among the population. The water comes from Tabalosos, a neighboring town that in 2000, a Lima-based television station infamously said was inhabited by 14,000 exclusively-gay men.
"Unfortunately strontium reduces male hormones and suddenly we'll be as Tabalosos, as other towns, where the percentages are increasing of homosexuality," Benitez is quoted as saying. "Young people have low self-esteem by this stigma."
Dr. Robert Castro Rodriguez, dean of the College of Pharmaceutical Chemistry of Lima, quickly dismissed Benitez's claims, telling Peruvian radio that large amounts of strontium in the body eventually lead to bone cancer, anemia and cardiovascular complications –- but not homosexuality.
Strontium is a natural occurring mineral so chemically similar to calcium that the human body absorbs it into the bone as if it were calcium. Stable forms of strontium might not pose a significant health threat — in fact, may be beneficial, however naturally occurring strontium can also be radioactive leading to various bone disorders and diseases, including bone cancer, according to various studies.
One such study found strontium ranelate, a drug made by combining the mineral with ranelic acid aided bone growth and increased bone density by 12 percent, thus reducing back and hip fractures in post-menopausal women using the drug. This may help explain how Tabalosos women upset by the TV station's claim were able to block highways with tree trunks and boulders and shut down local businesses in protest to express their outrage, as Nerve reported.
It's not the first eyebrow-raising claim about homosexuality to emerge from south of the border. In 2009, Peruvian Interior Minister Mercedes Cabanillas announced it would ban homosexuals from the police force for damaging the image of the institution, the BBC reported.
Similarly, last year The Los Angeles Times reported Bolivian President Evo Morales condemned chicken producers who inject female hormones into their fowl, "and because of that, men who consume them go bald and have problems being men."
Lynette Summerill, an award-winning writer and scuba enthusiast lives in San Diego, CA with her husband and two beach loving dogs. In addition to writing about cancer-related issues for EmpowHER, her work has been seen in newspapers and magazines around the world.
Sources:
Meunier P. J., Roux C., Seeman E. et al. (Jan 2004). "effects of strontium ranelate on the risk of vertebral fracture in women with postmenopausal osteoporosis". New England Journal of Medicine 350 (5): 459–468. doi:10.1056/NEJMoa022436. ISSN 0028-4793. PMID 14749454.
Abtract: http://www.ncbi.nlm.nih.gov/pubmed/14749454
Reginster JY, Seeman E, De Vernejoul MC et al. (May 2005). "Strontium ranelate reduces the risk of nonvertebral fractures in postmenopausal women with osteoporosis: treatment of peripheral osteoporosis (TROPOS) study". J Clin Metab. 90 (5): 2816–2822. doi:10.1210/jc.2004-1774. ISSN 0021-972X. PMID 15728210.
Abstract: http://www.ncbi.nlm.nih.gov/pubmed/15728210
Nerve. 'My aren't you manly.' 13 Oct. 2000. Accessed online 29 November 2011 at: www.nerve.com/content/this-week-in-sex-37
BBC. 'Peru to ban gay police officers'. Dan Collyns. 14 May 2009. Accessed online 29 November 2011 at: http://news.bbc.co.uk/2/hi/americas/8049368.stm
LA Times. Evo Morales: 'Chicken causes baldness and homosexuality'. Daniel Hernandez. 23 April 2010. Accessed online 29 November 2011 at: http://latimesblogs.latimes.com/laplaza/2010/04/bolivia-president.html
LGBT Asylum News. 'Beware, strontinum in water causes homonsexuality.' Paul Canning. 22 Nov. 2011. Accessed online 29 November 2011 at: http://madikazemi.blogspot.com/2011/11/beware-strontium-in-water-causes.html
Reviewed December 8, 2011
by Michele Blacksberg RN
Edited by Jody Smith