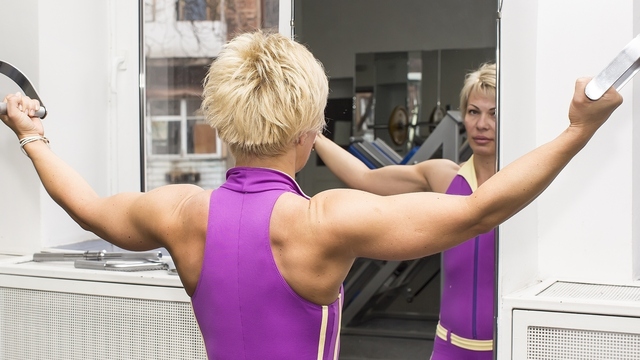 Zhanna Tretiakova/PhotoSpin
It can be quite a burden to remove your office makeup before you hit the treadmill — it makes perfect sense to just wash it off in the shower later, right?
Wrong!
Wearing makeup to the gym can jeopardize your skin, not to mention your good looks.
As you get your cardio on, your heart beats faster, your circulation increases, and your metabolism revs up, so your body starts sweating to cool off and maintain a normal body temperature.
Sweat is made up mostly water but also contains minerals, urea, lactic acid, ammonia and sugar, that exit your body via your skin. The dirt on your outermost skin layer also find a way out by sweating.
But if you're wearing a heavy foundation, concealer, powder, or blush that blocks and clogs your pores, none of that essential cleansing can take place.
The dirt gets trapped in your pores, leading to blackheads and breakouts.
Lighter formulas, on the other hand, become useless to wear since they simply slide off your face as you start sweating.
Eye makeup is a different story — your mascara and liner can run into your eyes and cause irritation. All that smudging and streaking can also give you black eyes —probably not the look you are going for!
Wearing full makeup can wreak havoc on your skin, but there are still ways to glam up for your much-needed gym routine. A little touchup can make you feel more confident indeed, and motivate you to have a more effective workout.
So here are three fast and easy tips to beautify without the hassle of going through every item in your makeup bag.
1) Remove all your makeup with a sulfate- and fragrance-free cleanser that won't dry out or irritate your skin. Using your daily moisturizer is not the best idea, as the product can get into your eyes and make you feel sticky as you sweat.
Try a light formula BB (beauty & blemish) cream instead. BB creams moisturize the skin and even out skin tones, providing enough coverage to give you an even-toned, fresh look.
They also contain antioxidants, anti-aging ingredients, and broad-spectrum SPF — so you can also use them if you are going to exercise outdoors.
Don't apply them all over your face, just dab a little and blend it on your T-area. You can also use it to conceal any pimples or spots if necessary. Skip the powder and blush, your cheeks will flush when you work out anyway!
Next, groom your eyebrows with a spoolie brush and use a lash curler to get fuller lashes — all smudge-free! You can try a transparent mascara if you want to go for a little darker, more subtle look.
Finally, apply a vivid, sheer lip tint for a pop of color. If you want to reduce the shine a bit, simply blot it with tissue paper.
And done!
With these little touches you will save your skin and your good looks. Fit and fab go really well together!
Sources:
Sweating: Why It's Good For You. Fitday. Retrieved Jan 12, 2015.
http://www.fitday.com/fitness-articles/fitness/exercises/sweating-why-its-good-for-you.html#b
Why You Definitely Shouldn't Wear Makeup to the Gym. HuffPost Style. Retrieved Jan 12, 2015.
http://www.huffingtonpost.com/2013/11/12/workout-beauty-tips-makeup-exercise_n_4254964.html
The Right Way to Wear Workout Makeup. Equinox Q-Blog. Retrieved Jan 12, 2015.
http://q.equinox.com/articles/2014/10/workout-makeup
Reviewed January 15, 2015
by Michele Blacksberg RN
Edited by Jody Smith