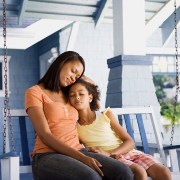 Photo: Getty Images
Arthritis is often associated with grandparents, but the Arthritis Foundation has reported that nearly 300,000 children in the United States also suffer from arthritis.
The most common form of childhood arthritis, juvenile rheumatoid arthritis, affects about 50,000 kids. Also known as juvenile idiopathic arthritis, JIA, can strike children between the ages of 6 months and 16 years.
Researchers believe that JIA is an autoimmune disease. This means the white blood cells are unable to tell the difference between healthy cells and germs. As a result, the immune system begins to attack healthy tissue, causing the pain and inflammation in a child's joints.
The Mayo Clinic reported that a parent may notice a change in a child's walk indicating stiffness or even a limp. Joints may swell and not return to normal size. A child may report sore knees, wrists or fingers.
Other symptoms indicating the onset of juvenile rheumatoid arthritis include a rash that comes and goes or a fever that spikes at dinner time and then suddenly returns to normal.
The Mayo Clinic recommended taking your child to the doctor if pain, stiffness and swelling last for more than a week, particularly if those symptoms are accompanied by a fever.
To diagnose JIA, your child's doctor will likely recommend a rheumatologist who may do several blood tests and take X-rays. The rheumatologist will also inquire about any family history of juvenile arthritis.
Treatment may involve pain medications, steroids to reduce joint swelling and damage, or immune suppressants to slow the progression of the disease. Physical therapy can be recommended to keep the joints flexible and the surrounding muscles toned. In severe cases, surgery is recommended to reshape the affected joint.
Parents can help a child with JIA continue to enjoy an active and healthy lifestyle with an emphasis on exercise, diet and pain management. The Mayo Clinic says that even if a child is feeling stiff, parents can encourage them to keep moving.
Swimming is a great way to exercise, since there is little impact on the joints. Since the child with JIA can develop bone growth problems, adequate calcium intake is an important part of a healthy diet.
To help with the frequent arthritis pain and stiffness, many children respond well to a warm shower to start the morning. Others may prefer a cold pack placed on the sore joint.
While some children can experience symptoms for just a few months and others for a lifetime, early detection will help to minimize the damage caused by juvenile arthritis.
Sources:
KidsHealth. Juvenile Idiopathic Arthritis. Web. 15, Dec. 2012.
http://kidshealth.org/parent/medical/arthritis/jra.html#
Arthritis Foundation. Juvenile Arthritis. Web. 15, Dec. 2012.
http://www.arthritis.org/juvenile-arthritis.php
The Mayo Clinic. Juvenile Rheumatoid Arthritis. Web. 15, Dec. 2012.
http://www.mayoclinic.com/health/juvenile-rheumatoid-arthritis/DS00018
Reviewed February 16, 2012
by Michele Blacksberg RN
Edited by Jody Smith