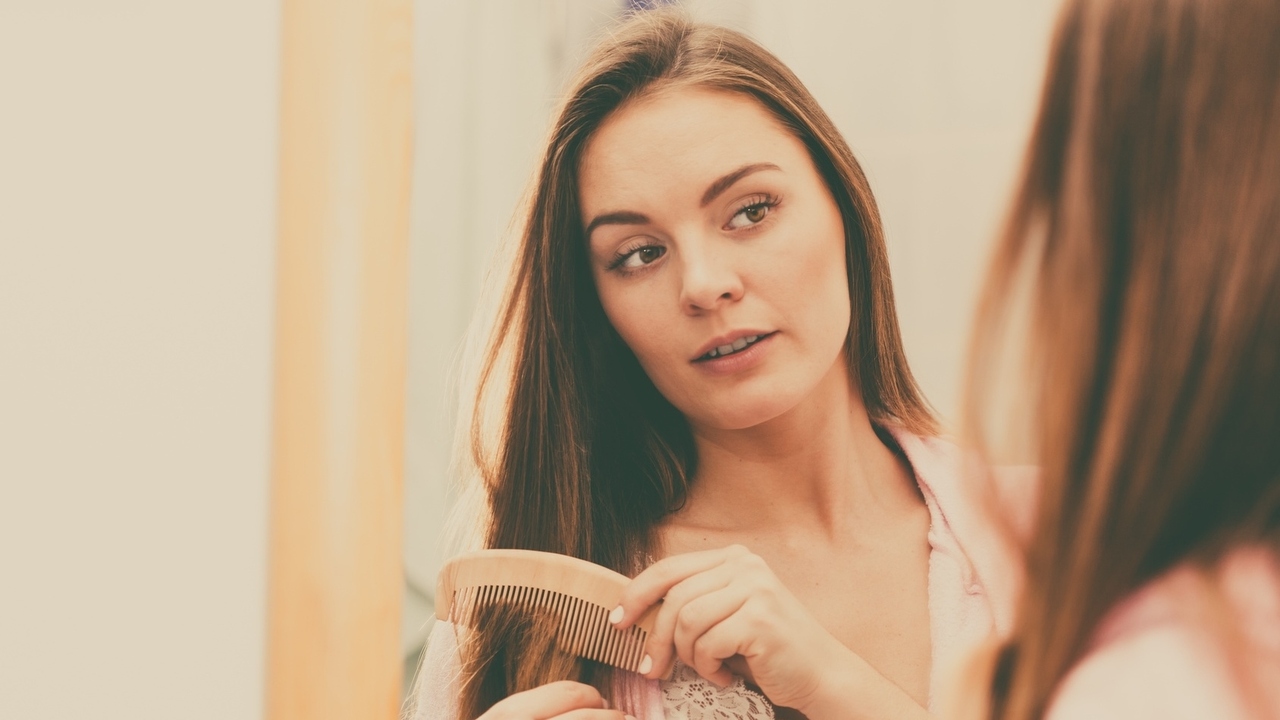 Voyagerix/Fotolia
Just as our bodies show signs of age, our hair can become thinner, dryer and more brittle as we get older. So what can you do to help slow the aging process and protect your hair?
Try these nine tips from the American Academy of Dermatology:
1) Wash gently
Instead of rubbing shampoo down the whole length of your hair, just shampoo your scalp. When you rinse your hair, enough shampoo will flow down your hair to clean the ends without adding damage.
2) Always use conditioner
No matter what kind of hair you have, always follow up shampoo with an appropriate conditioner.
3) Dry carefully
Rubbing your hair with a towel can break off strands and rough up the cuticle. Instead, wrap your hair in a towel for a few minutes so the towel can wick away moisture. If at all possible, let your hair air dry instead of using heat to dry.
4) Skip the brush
Contrary to what your great-grandma may have believed, brushing your hair 100 strokes every day is not good for your hair. Brush hair only as needed to style it, and always be gentle with your brush or comb.
When your hair is wet, reach for a wide-tooth comb to gently ease through tangles in wet or damp hair. If your hair is straight, let it dry a bit before you comb it out.
5) Avoid high heat
Any implement that heats your hair can cause damage. If possible, skip the blow drier and let your hair air dry or wait until hair is almost dry before using the blow drier for styling.
If you must use a curling iron or similar tool, use the lowest heat setting possible, and don't let the heat touch your hair longer than absolutely necessary. Try to limit the number of times you apply heat to your hair to once a week or less.
6) Skip strong chemicals
If your hairstyle requires longlasting styling products, think about changing to a style that will be easier on your hair.
7) Don't pull
Hair styles that pull hair tight, such as ponytails and tight braids, can damage hair. Try a looser style and be sure to only use covered rubber bands intended for hair.
8) Take care with weaves
If your hairstyle includes a weave or extensions, make sure a qualified stylist puts them in and use the lightest weight possible so they won't pull on your hair. Make sure your scalp stays clean and healthy while your weave is in.
9) Protect hair after treatments
If your look requires coloring, perming or relaxing, make sure you only use one treatment at a time and rest your hair for two weeks in between. Stretch the time between treatments as much as you can, and always use conditioner when you shampoo treated hair.
These treatments can also make hair more subject to UV radiation, so always use a leave-in zinc oxide hair treatment or wear a hat when you are in the sun.
Unfortunately, there is no way to prevent hair from aging. But you can limit hair damage by taking special care of your hair and scalp.
If you are concerned about hair thinning or hair loss, see a dermatologist to find out what might be causes for these changes and what can be done to slow or stop the process.
To learn about factors that can damage your hair, read Is Weathering Affecting the Health of Your Hair?
Reviewed July 13, 2016
by Michele Blacksberg RN
Edited by Jody Smith