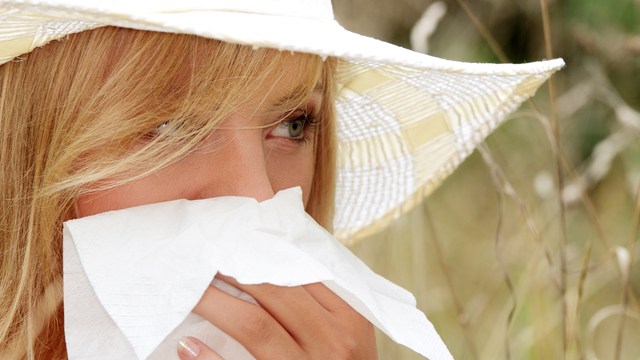 B-D-S/PhotoSpin
Written By Dr. Clifford Bassett for Fox News
More than 25 million American children, adolescents and adults currently have a diagnosis of asthma.
Previously it was thought that underlying allergies were only prevalent in children with allergies. In fact, almost 80 percent of children with asthma have underlying allergies, so perhaps that was not necessarily the case with adults with asthma.
However, a new study published in this month's Annals of Allergy, Asthma and Immunology found that about 75 percent of asthma sufferers aged 20 to 40 years old and 65 percent of asthmatic adults aged 55 years and older, have at least one confirmed allergy.
The older asthmatic adults studied were found to be sensitive to indoor house dust mites (36 percent), followed by grass pollen (33 percent), cats (27 percent), dog (24 percent), and cockroaches (11 percent).
The allergic sensitivities in those asthmatics studied in the 20-to 40-year-old groups were different: These younger patients were found to be sensitive to dogs (50 percent) and house dust mites (45 percent).
The medical community has long understood the relationship between having allergies and the risk of developing asthma especially in the younger population. However, asthma is often not well diagnosed in older adults, and so many go untreated or under-treated.
A misdiagnosis of asthma in an older adults leaves the potential for various associated health consequences. Without optimal diagnosis and treatment, a potential increase in life-threatening asthma symptoms may be observed particularly in older adults, where other conditions are more prevalent, such as underlying heart diseases.
This study underscores the importance of looking at allergic triggers in older and younger individuals, as well as looking at genetic history and environmental modification in evaluating and treating asthmatic individuals.
Testing for possible allergies and subsequent counseling regarding environmental allergy exposures need to be strongly considered in older patients with asthma.
For a long time it was considered that older patients with asthma were more likely to be characterized as being "non-allergic." It appears from this review and others, there is increasing evidence of older individuals with asthma who are more likely to have underlying allergies.
The take-home message from this study shows an even higher number of older adults with underlying allergies, clearly a significant part of their day-to-day asthma.
Dr. Clifford Bassett is an adult and pediatric allergy specialist, and diplomat of the American Board of Allergy and Immunology. He is the medical director of Allergy and Asthma Care of NY. Bassett is a clinical assistant professor of medicine and on the teaching faculty of NYU School of Medicine and NYU Langone Medical Center and assistant clinical professor of Medicine and Otolaryngology at SUNY LICH. Follow him on Twitter.
This article was first published by Fox News http://www.foxnews.com/health/2013/04/02/study-finds-up-to-75-percent-as...
RELATED:
Oral drops may be an effective treatment for allergy, asthma sufferers
http://www.foxnews.com/health/2013/03/27/oral-drops-may-be-effective-tre...
Traffic congestion causes childhood asthma, study confirms
http://www.foxnews.com/health/2013/03/22/traffic-congestion-causes-child...
BPA exposure linked to kids' asthma risk
http://www.foxnews.com/health/2013/03/01/bpa-exposure-linked-to-kids-ast...
This article was first published by Fox News http://www.foxnews.com/health/2013/04/02/study-finds-up-to-75-percent-as...