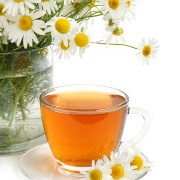 Photo: Getty Images
Since moving out to the Eastern Seaboard, I have developed the worst allergies. On a good day, my sinuses clog up and my eyes become irritated and red. On a bad day, I lose my sense of taste and feel just uncomfortable overall.
Now, here is a quick lesson on allergies, histamines and antihistamines.
Your body naturally releases histamines when it reacts to pet dander, molds, pollen or other allergens. This causes your body to have a stuffed nose (hay fever), watery eyes, itchy skin, etc. In most cases, your body's overreaction is treated with an antihistamine.
Now, over-the-counter antihistamines (like Claritin, Zyrtec, etc.) suppress your allergy symptoms. But, Mother Nature has provided us with a plethora of natural antihistamines.
Here is a list of natural antihistamines:
• Basil (Ocimum sanctum)
• Devil's claw
• Bloodroot
• Chamomile (Matricaria chamomilla)
• Green Tea
• Stinging Nettle
• Mangosteen
• Butterbur
• Jewelweed (Impatiens aurea)
• Papaya (Carica papaya)
• Parsley (Petroselinum crispum)
• Goldenrod
• Ragweed (Ambrosia ambrosioides)
• Eyebright
• Elder
• Echinacea (Echinacea purpurea)
• Fennel
• Ginger
• Reishi (Ganoderma lucidum)
• Thyme
• Vitamin C
• Wild Oregano (Origanum vulgare) – aka Wild Marjoram
In an interview with the Daily Mail, Marcia Mendosa, medical herbalist at the University of Westminster, said, "Herbs such as echinacea, devil's claw and bloodroot contain molecules that work together to correct allergic reactions in hay fever, asthma and other allergies by rebalancing immunity.
"Some people notice a difference in days or weeks and may be able to come off a medication such as steroids," continued Mendosa." The Daily Mail article also stated that daily use of stinging nettle tea can reduce hay fever symptoms.
Now, the key question is how do you take theses natural herbal antihistamines?
1. Conduct an internal evaluation (make a list) of current medications and supplements you are currently taking.
2. Contact your doctor and let him know that you plan on taking a natural herbal antihistamine.
This step is crucial as some herbal remedies can counteract current medications. The last thing you want to do is end up in the emergency room because of a bad chemical reaction.
3. Contact an herbalist.
If you are interested in locating an experienced herbalist in your area, you can visit the American Herbalists Guild (AHG) site at: www.americanherbalistsguild.com/
4. Start out slowly and try one of the following:
• Try drinking 2-3 cups of green tea , fennel, ginger or chamomile tea daily
• Also, try a 20 minute ginger bath
• Add papaya fruit to your daily diet
• Try a mangosteen juice or supplement. Please note high doses of the juice may cause constipation.
• Some experts believe taking high doses of vitamin C will subdue allergy symptoms. However, stop if you experience an upset stomach or diarrhea.
References:
Allergic reactions - PubMed Health. National Center for Biotechnology Information. Retrieved February 14, 2012, from http://www.ncbi.nlm.nih.gov/pubmedhealth/PMH0001076
Allergic rhinitis - PubMed Health. National Center for Biotechnology Information. Retrieved February 14, 2012, from http://www.ncbi.nlm.nih.gov/pubmedhealth/PMH0001816
Los Altos Town Crier - Drug interaction: Avoiding adverse reactions. Los Altos Town Crier. Retrieved February 14, 2012, from http://www.losaltosonline.com/index.php?option=com_content&task=view&id=42114&Itemid=128
Natural AntiHistamine Herbs | Natural Holistic Health Blog. Natural Holistic Health Blog. Retrieved February 14, 2012, from
http://www.natural-holistic-health.com/natural-anti-histamine-herbs
Six ways to beat your allergies | Mail Online. Home | Mail Online. Retrieved February 14, 2012, from http://www.dailymail.co.uk/health/article-176924/Six-ways-beat-allergies.html
Stinging nettle. University of Maryland Medical Center | Home. Retrieved February 14, 2012, from http://www.umm.edu/altmed/articles/stinging-nettle-000275.htm
Natural antihistamine herbs and supplements, foods high in histamine. Ray Sahelian, M.D., nutrition expert and best selling author. Retrieved February 14, 2012, from http://www.raysahelian.com/naturalantihistamine.html
Reviewed February 14, 2012
by Michele Blacksberg RN
Edited by Jody Smith